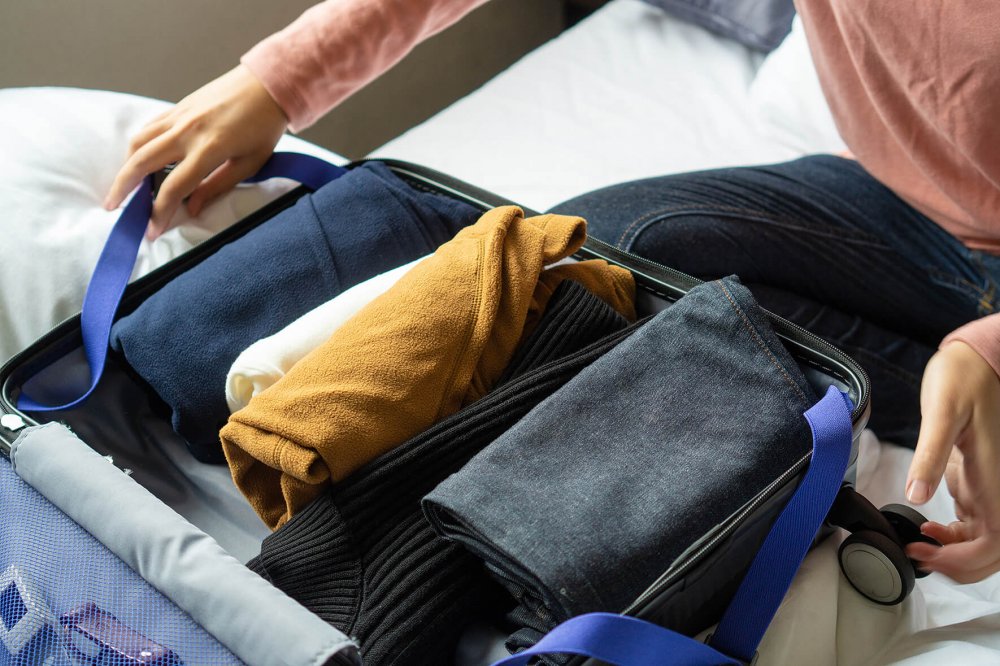 A well-packed suitcase is a great convenience when traveling. It provides good access to necessary things, properly protects fragile items and... it simply takes up little space, which is crucial when traveling. We've prepared a practical guide for you in which we share our proven ways to conveniently pack clothes in a suitcase.
The small luggage allows us to save a lot of money when traveling by plane, and well-packed clothes help us avoid the trouble of a feverish search for a windbreaker, a spare t-shirt or comfortable shoes. However, hardly any traveler knows specific methods of folding clothes that save space in a suitcase and at the same time protect clothes from damage or creasing. We've prepared 4 easy steps for you, thanks to which you can pack up comfortably and without stress!
1. Preparation stage
In the first stage, we'll focus on planning your luggage and preparing for packaging. The right plan is key. We will stick to three basic principles here:
Always choose the smallest suitcase in which you can fit all the necessary clothes and items, avoiding too much pressure, which will increase the likelihood of creases. Make sure that the clothes are not packed by force - there must be a little space between them. A hard case will be better - it's securing luggage and shock-absorbing. Thanks to this, your journey will be more comfortable and your luggage will not be a bothersome problem.

Plan packing your luggage thinking of sets, so that as many clothes as possible look good together - for example, pack jeans that look great with your t-shirts, jacket and sweaters.

Take the planned sets out of the closet. Check how they look together on the bed or floor.

Iron the clothes so that they look fresh and neat when removed from the suitcase.

Pack in the correct order - you will learn more about this in the fourth chapter of this article!
Think about how many days you'll be travelling and what the weather will be like - the MuLuggage app will help you to personalize the list of items and clothes to pack. This will ensure that you not only forget about anything, but also you won't take unnecessarily many clothes in store.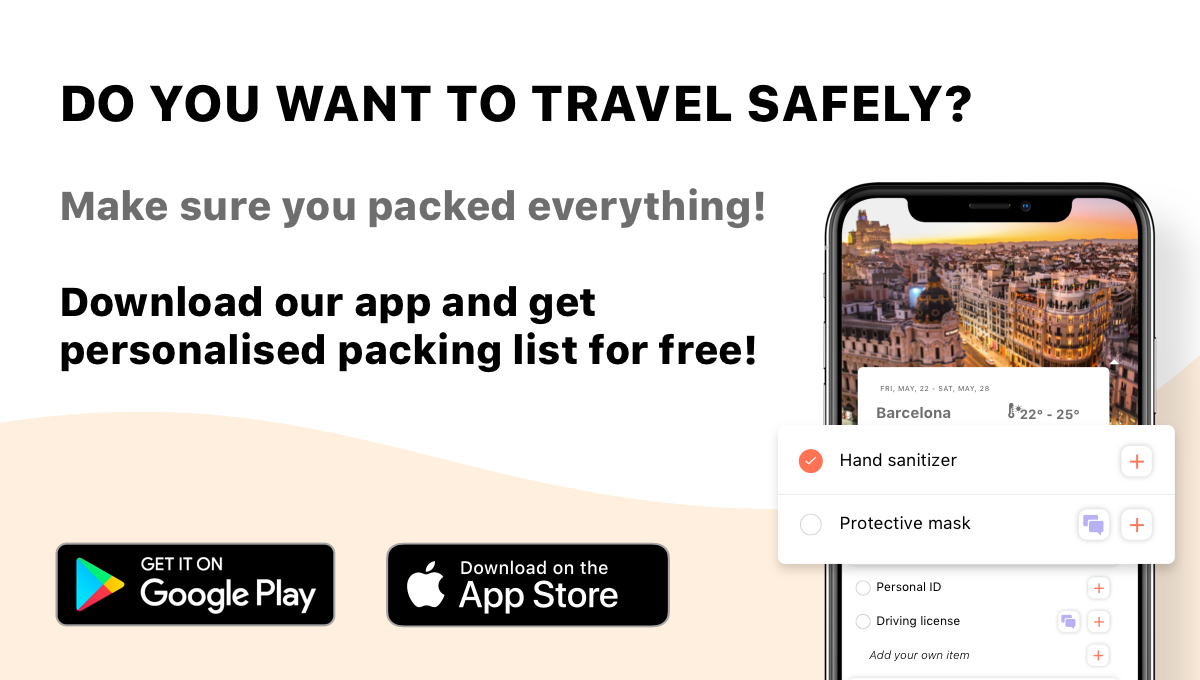 2. Useful gadgets and accessories
Since you know what clothes you need to pack, think about whether you need to pack any additional accessories for your trip.
Just in case, bring a small, portable stain remover, which you can buy at any drugstore, and a disposable washing powder (necessarily tightly packed in a plastic, protected, ziploc bag) in case something happens to your favorite clothes.

If you want to organize your luggage better - decide to buy packing cubes - space organizers in a suitcase. Some of them compress clothes, so you save a lot of space. You can divide clothes into specific sets for each day or divide them by type - for example, holding shirts in one organizer, and skirts in another.

If you wear shirts, dresses or a suit during your trip and have space in your suitcase - consider packing a hand-held steam ironing device to remove small creases on your shirt or blouse.
3. Baggage security
Have you already planned sets of clothes for all weather and a suitably small suitcase is ready? Great - now it's time to secure your luggage so that it doesn't get hurt while traveling.
How to secure ...
Shoes
When packing shoes - pack them in a plastic bag so that their soles do not touch your clothes.

Elegant clothes
If you pack clothes such as elegant shirts, jackets or dresses - take care of covers that protect them from dirt, creases or other mechanical damage. Warning! When you pack a shirt, always pack it with the buttoned up and the collar up.
Additional tips for ...
The smell of clothes
A great way to ensure the freshness of your clothes while traveling is to get small scented sachets, thanks to which the fresh smell of laundry will last even a long flight by plane.

Organization
If you have a small suitcase, and you are afraid that when you move around and open the suitcase it will be a one big mess inside, secure its contents with packing cubes.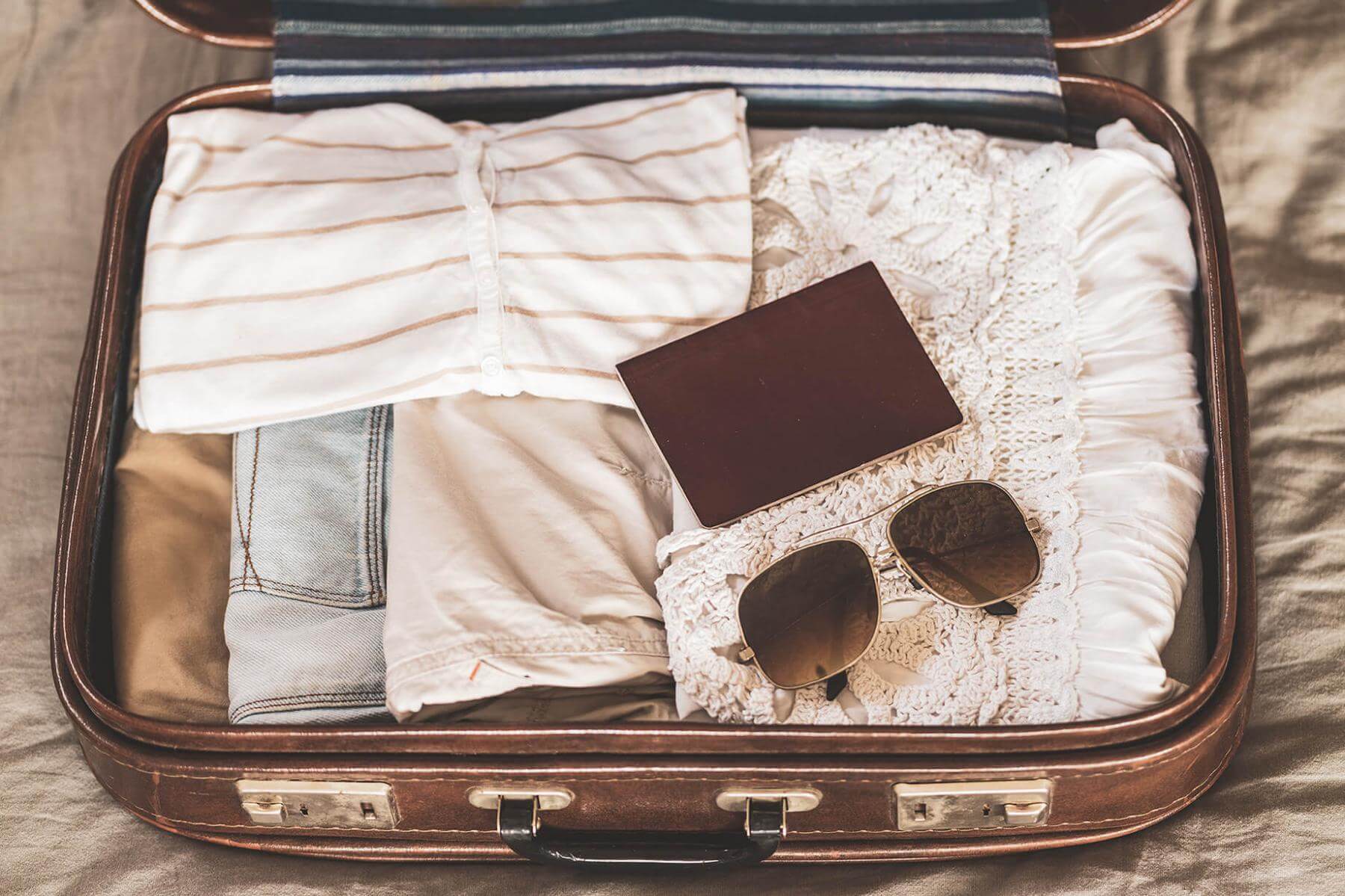 4. Folding clothes in the correct order
If delicate items are already secured - it's time to fold and pack clothes in the right order.
Bottom layer
At the very bottom put shoes secured with plastic bags, rolled up jeans and T-shirts. This way of folding creates secure cushioning for the rest of the luggage, but also protects against creasing.
Middle layer
On this layer put another - folded and secured items that are exposed to creases.
The top layer
The upper layer should be pants and dresses folded in half. Use the full length of the suitcase to pack them. Place small items and accessories on top, using the free spaces. Warning! If you are carrying an empty thermos, food containers or other objects with empty space inside - use it. You can slip in a belt, earrings, charger or nail polish.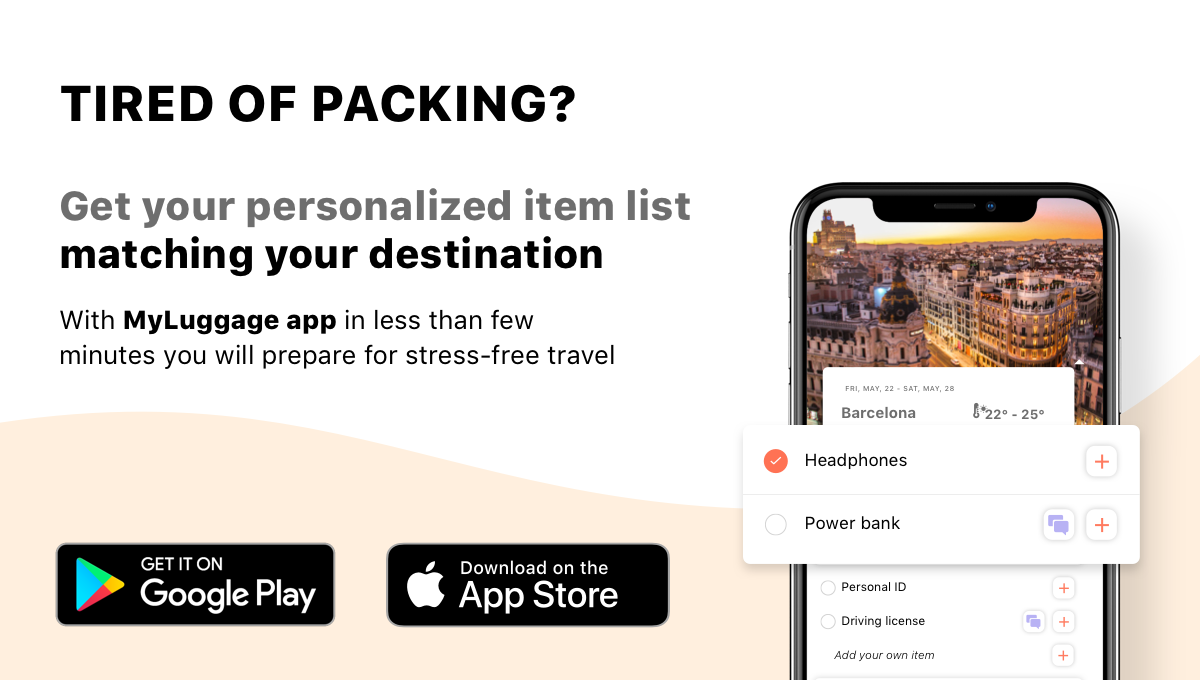 Summary
Appropriate luggage organization - planning sets, using packing cubes or the most convenient packing strategies - is an inseparable element of a stress-free journey. Thanks to MyLuggage, you will not only learn about the best ways to pack a suitcase, but also get a personalized packing list so you don't forget about anything that might be useful during your trip!
9 June 2020